MINIVAN RENTAL MAUI
Explore Maui into another level
Minivan Car Rental Maui: The Perfect Choice for Exploring the Island with Family and Friends
Are you excitedly preparing for a trip to the picturesque island of Maui with your beloved family or a close-knit group of friends? Your search for the perfect transportation solution ends here! Renting a minivan in Maui presents an optimal choice for fulfilling your transportation needs seamlessly. Enjoy your Maui minivan car rental.
Why Choose a Minivan Rental in Maui?
When it comes to exploring Maui with a larger group, the benefits of renting a minivan are numerous. Let's dive into some of the key advantages:
Spaciousness and Comfort: You and your loved ones will have plenty of space in our minivans thanks to their careful design, ensuring a journey that is both comfortable and pleasurable. Everyone can stretch out and unwind thanks to the numerous seating rows and enough legroom, making priceless memories in the process.
Convenient Storage: Minivans are equipped with spacious trunks and compartments, ensuring you have enough room for beach gear, snorkeling equipment, picnic baskets, and any other items you want to bring along. You can pack all the essentials without sacrificing passenger comfort.
Group Bonding: Travel with family or friends and create the best memories and share the best experiences. Rent a minivan and in this way all together you can enjoy the trip, so you can have pleasant conversations and laughs all the way.
Flexibility and Accessibility: Maui has an impressive variety of routes or excursions. Having a minivan at your disposal gives you the freedom to explore the island at your own pace. You can access off the beaten path destinations, secluded beaches and hidden places.
Cost-Effective: Dividing the cost of renting a minivan among the group can be a profitable option, on the contrary, renting several vehicles can be less cheap. Minivans often offer better fuel efficiency, allowing you to save on gas costs while enjoying the island to the fullest.
Convenient Minivan Car Rental Options in Maui
When planning your minivan car rental in Maui, you'll be pleased to discover a variety of
convenient options. Major car rental companies like CarRentalMaui offer reliable and well-maintained minivans that cater to your needs and preferences.
Booking your minivan online in advance is a smart move to secure the best deals and ensure availability during your island visit. Embrace the ease and peace of mind that comes with reserving your ideal minivan, allowing you to focus on creating incredible memories while exploring Maui.
Personal Touch: Our Top Recommendation for Minivan Car Rental in Maui
Our number one suggestion for minivan car rentals in Maui is Makao Car Rental Maui.
Makao Car Rental Maui offers a variety of dependable minivans to meet your needs. They are renowned for their great service and dedication to client happiness.
Makao Car Rental Maui guarantees a stress-free rental experience with their easy booking procedure and well-kept fleet, enabling you to concentrate on making priceless moments with your family or friends as you explore the island.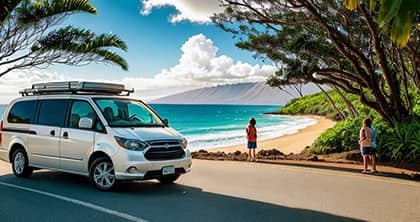 Note that the remainder of the piece is still focused on the advantages of minivan rentals, touring Maui's attractions, and giving readers pertinent information.
Exploring Maui with a Minivan Car Rental
Now that you have your minivan rental secured, it's time to embark on your Maui adventure. Here are a few must-visit attractions that are perfect for exploring with your family or friends:
Road to Hana: Take the iconic Road to Hana and witness stunning waterfalls, lush rainforests, and breathtaking coastal views. Note that the remainder of the
piece is still focused on the advantages of minivan rentals, touring Maui's attractions, and giving readers pertinent information.
Haleakalā National Park: Drive up to the summit of Haleakalā, Maui's highest peak, to witness a mesmerizing sunrise or sunset. The panoramic views from the summit are simply unforgettable. Remember to pack warm clothing, as temperatures can be chilly at higher elevations.
Lahaina: Explore the historic town of Lahaina, known for its charming shops, art galleries, and vibrant atmosphere. Park your minivan and stroll along Front Street, where you'll find a variety of restaurants, boutiques, and cultural landmarks.
Beach Hopping: Maui is famous for its stunning beaches, and with your minivan, you can easily visit multiple beaches in a day. Whether you're looking for calm waters for snorkeling or dramatic waves for surfing, the island has a beach to suit every preference.
Rent a Pickup Truck for Your Next Adventure
Looking for a reliable and versatile vehicle? Rent a pickup truck from Car Rental Maui! Perfect for camping trips or weekend getaways, our well-maintained trucks from 2008 to 2013 offer comfort and dependability.
With spacious interiors and ample cargo capacity, they're ideal for hauling gear. Book online at Pickup Truck Rental for competitive prices and excellent service. Explore Maui's landscapes and enjoy the freedom to go off the beaten path.
Conclusion
Without a doubt, the best option to tour Maui with your family or a group of friends is to rent a minivan. A minivan rental promises a memorable and pleasurable Hawaiian experience with roomy interiors, practical storage, and the ability to design your own route. Reserve your minivan today to start a memorable adventure across Maui's stunning scenery. Enjoy your Maui minivan car rental.