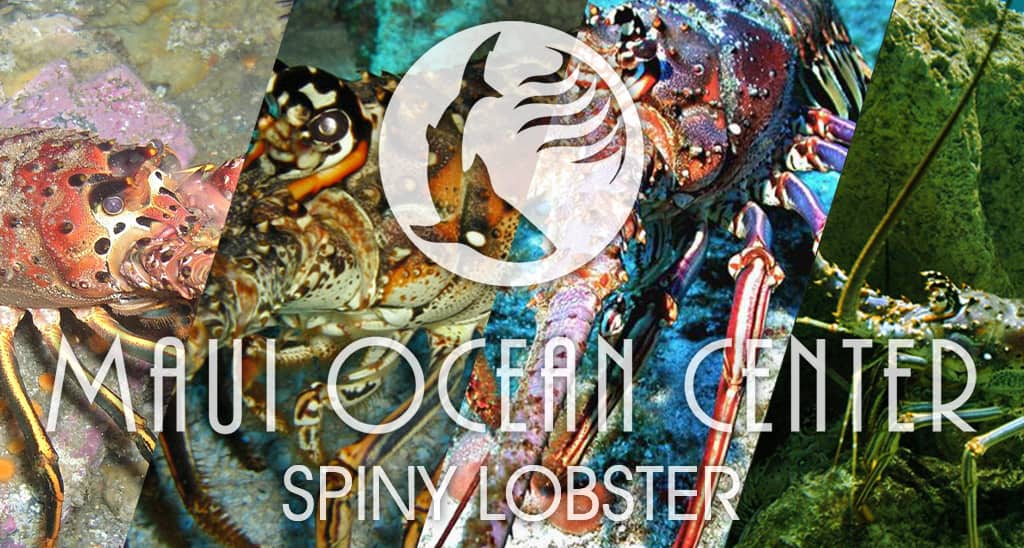 Though Hawaii lacks true lobsters with distinguishing, enlarged pincers on the first pair of legs, the islands do provide home to the spiny lobster! A true sight to see, these creatures can be seen during a snorkeling trip near or far from shore! Though care should be taken not to get too close, to avoid a pinch of a greeting!
Covered in forward pointing spines on the carapace and antennae, the spiny lobster spends the day time hours inhabiting cervices of rocks and reefs, primarily feeding at night. These animals roam the sandy flats of the ocean in search of snails, clams, sea hares, carbs and urchins as a source of diet. By using smell and taste to navigate, the spiny lobster is primarily nocturnal. These decapods may live up to 15 years or more, though it is hard to estimate age. Growing up to 15 pounds in weight and up to 18 inches in length, the spiny lobster's exoskeleton does not grow, which means that molting must occur regularly to get bigger. After a new shell has grown underneath the old shell, the outer shell will split, and the new exoskeleton will harden. Most of these creatures are found in a reddish brown coloring, with dark or creamy colored spots, though spiny lobsters can be as colorful as a painting!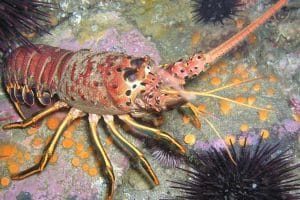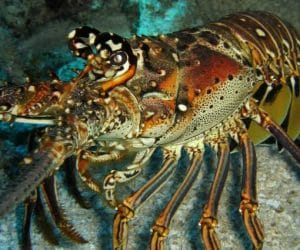 Of the three lobster species in Hawaii, two possess commercial value and are harvested for tail meat. In Hawaiian history, lobsters were sometimes a substitute for pigs in sacrificial offers to the Gods, and often prized sources of food, eaten cooked, raw and eve partially decomposed. These animals can sometimes be found in groups of dozens, and will migrate as groups in a line form along the ocean floor. These groups will stray away from any sick or diseased individuals, leaving those animals to fend alone in the open waters. Keeping together by antennae contact, the spiny lobster can also use these body parts to perform stridulation (the act of sound making), when the antennae is rubbed against the exoskeleton to create a loud screeching sound. This noise along with having very powerful abdomen and tail muscles for fast backward movement aids in the spiny lobster's ability to escape from and ward off predators.
Female spiny lobsters may spawn up to four times per year, and can produce up to half a million eggs each time! The male lobster will deposit sperm packets on the underside of the female's body, which will then be scratched until the sperm is released along with the eggs. An orange mass of eggs will then form and be held under the female's tail using appendages called swimmerets. The female will circulate oxygen bearing water around the eggs, and after about four months the eggs will hatch and go through larvae stages. The spiny lobster is a protected species by the State of Hawaii, due to commercial catch. It is prohibited to harvest from May to August and size regulations are in place to avoid catching any females possessing eggs. To avoid any mother lobsters being captured, the minimum legal size for harvesting is a three and a quarter inch carapace.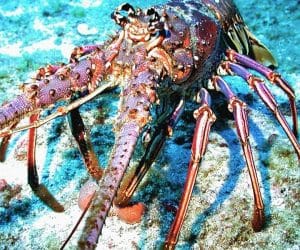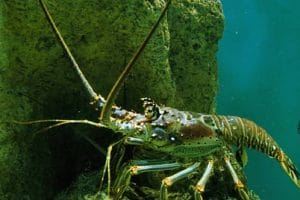 The spiny lobster may not be the most beautiful of sea creatures to stumble upon during a snorkeling adventure on Maui, but still a fascinating sight! And perhaps enough reason to not order the lobster at dinner later! For a closer and more in depth peek at these poky little animals, a trip to the Maui Ocean Center gives visitors a great look at the spiny lobster! Go Rent A Car Maui has vans, trucks, suv's and sedans for days of snorkeling across the whole island, or a trip to the Maui Ocean Center in search of spiny lobsters!