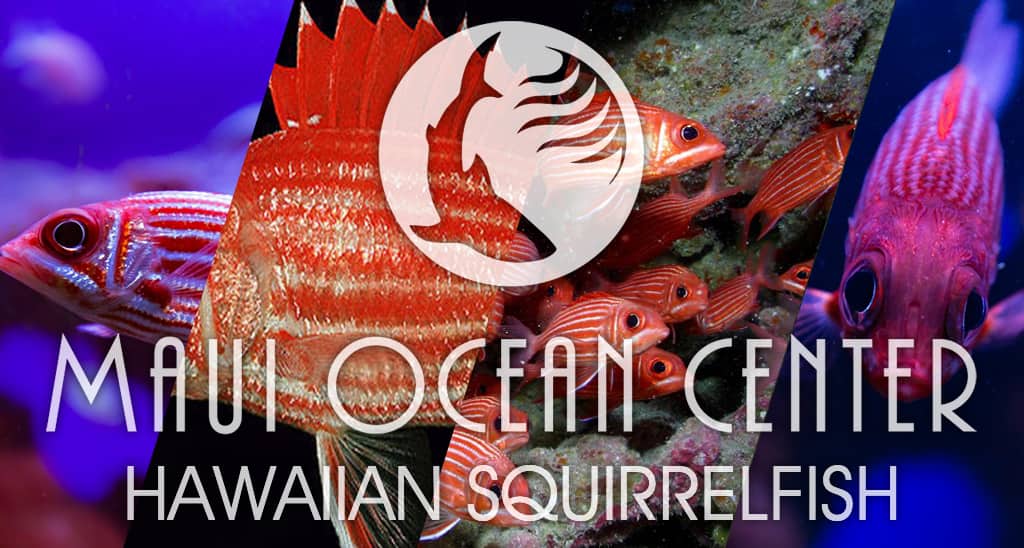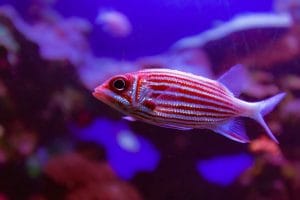 There are endless reasons that visitors flock to the island of Maui, but perhaps the most popular island experience is a dive into the sleek blue ocean with a snorkel mask and flippers ready to see the world under the surface! While under the water there are so many adverse and beautiful creatures to see, including the Hawaiian Squirrelfish! Of the 20 species of squirrelfish, this is the only endemic to Hawaii, found no where else in the world, and is amongst the most populated fish in the islands of Hawaii.
The Hawaiian Squirrelfish has a vibrant red body with silvery white stripes, and two very large eyes. Reaching about 6.5 inches in length, the deep red dorsal fin is equipped with white spined tips and unique white lines rest under the eyes. This nocturnal species, spending the day time hours hiding in caves and ledges of the reef, has eyes and a mouth adapted for night time life. Found at depths of about 20 to 100 feet, these fish appear to be grey or black in the dark as part of a camouflage against predators, and can contract muscles which cause a vibration through the swim bladder, making a sound similar to a squirrel's bark, warding off predators. The Hawaiian Squirrelfish is highly sensitive and skittish with gill covers that posses tiny spines containing poison. This hardy and resistant to disease species can sense danger by using sound to determine the size, speed and location of predators.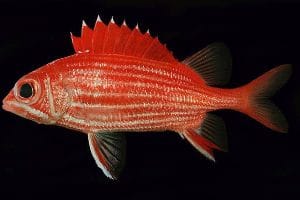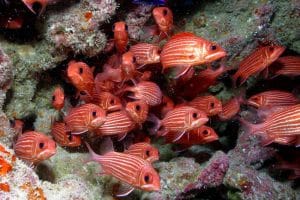 Living and hunting in groups of eight to ten fish, the Hawaiian Squirrelfish forms pairs as aging progresses, reaching sexual maturity at about five inches in length. With a lifespan of about two to four years, the Hawaiian Squirrelfish is an egg scattering species, laying eggs in the open waters. After external fertilization, the eggs will drift in the waters until hatching occurs after a few days with no parental protection or aid. Gestation period for this species is about 48 to 72 hours, and litters can range in size from 500 to up to 1,000 babies!
The Hawaiian Squirrelfish feeds on tiny crabs and shrimp throughout the reef, with fast speeds that allow it to flee when approached by anything it doesn't want to ingest. While sightings can be quite common, be sure not to scare the fish away! The bright and stand out colors make this fish easy to spot amongst the coral and sea grasses, making it the perfect guest to any snorkeling adventure! For a closer look at the Hawaiian Squirrelfish, a trip to the Maui Ocean Center can be added to the to do list! Go Rent A Car Maui has vans, trucks, suv's and sedans prepped and ready to take guests straight to the open waters or Maui or to the Maui Ocean Center for a sighting of the neon red Hawaiian Squirrelfish!