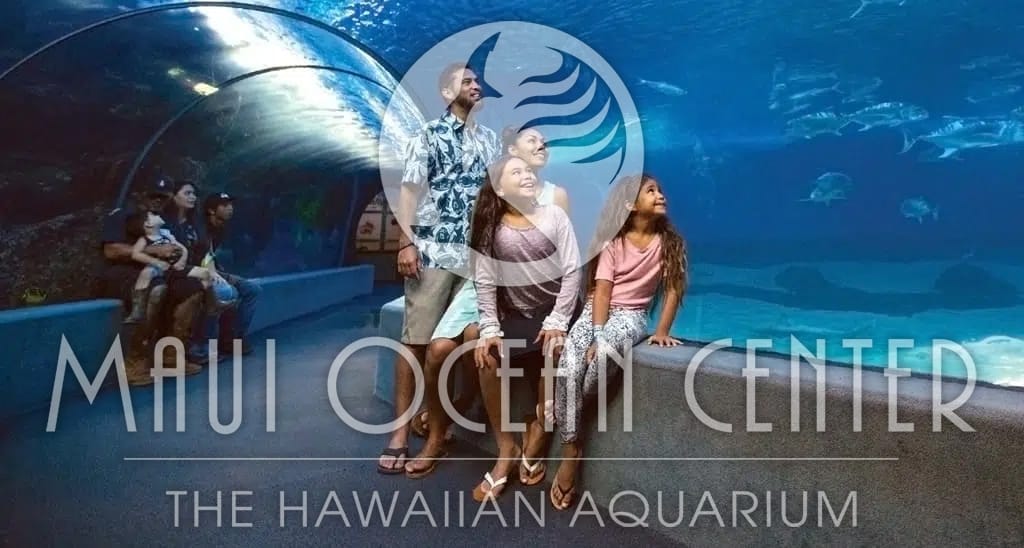 Traveling to the beautiful island of Maui is all about the white sand beaches & the crystal clear blue waters of the sea. & The creatures below the surface of the crisp waters are just as amazing as the ocean views. The Maui Ocean Center is an adventure of experiencing the life under the water of Maui for the entire family to enjoy.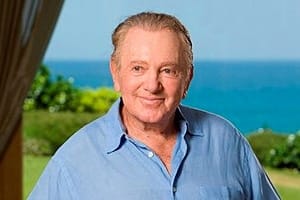 Back in the 1970's, philanthropist Morris Kahn partnered with renowned reef biologist David Fridman to create Coral World International. With locations Coral World St. Thomas, Coral Islands Bahamas, AQWA & Ocean World Australia, Palma Aquarium Mallorca & The Ocean Center. Coral World International is a strong advocate for marine life & also ocean life cultures. Maui Ocean Center opened its doors in 1998 to welcome visitors of the island & locals alike to experience Maui's beautiful creatures of the waters in a whole new way.
The collection of sea life that Maui Ocean Center exhibits follows the strict permits put in place by the Hawaii State Department of Land & Natural Resources as well as the Maui County Ordinance which prohibits any exhibits of whales or dolphins. With a team of marine biologists, divers & a Native Hawaiian Cultural Advisor, Ocean Center is able to display aw inspiring wild life while also maintaining their core values; respect for the ocean, integrity, passion for what we do, transparency & accountability, a healthy & sustainable environment, education & conservation, leaving a positive legacy for future & commitment to our employees.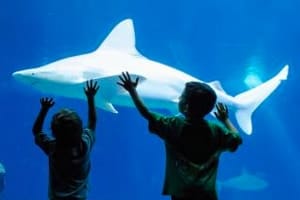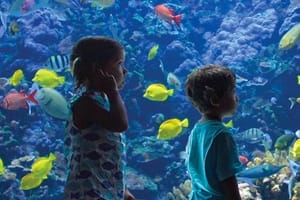 The Maui Ocean Center cares for one of the world's largest collections of live Pacific corals. The exhibits receive salt water straight from Ma'alaea Bay, allowing for all species of tropical critters to thrive at their best. The Living Reef exhibit shows off over 40 species of coral & gorgeous tropical fish swimming in their gracefulness. The Kaho'olawe & Hawaiians & The Sea exhibits teach visitors of the sacred stories of Hawaiian land & sea as well as the cultures & traditions behind Maui's oceans. One of the most sacred animals in the islands of Hawaii is the sea turtle, or "hanu", & Turtle Lagoon allows the public an up close & personal view of these majestic beings. Though the aquarium is not able to display whales or dolphins, a new exhibit called Humpbacks of Hawaii presents a 3D virtual sphere experience & tour of whales in their natural habitat & state of being. The most spectacular experiences of Maui Ocean Center can be seen in the Open Ocean exhibit, as 53 foot long tunnel containing 750,000 gallons of water. This walk through shows off fish, rays & sharks as they live together just as they would in the open waters of the islands.
If visitors are hungry for a bite to eat, after watching the critters & creatures have their meal, Maui Ocean Center has two restaurants; Seascape Restaurant & Reef Cafe. After filling up on delicious eats, swing by the Treasures Gift Shop to browse for unique treasures to bring home. Maui Ocean Center is the only place on Maui to purchase Pandora collectable jewelry, perfect gifts. Don't forget to check for daily presentations, feedings & show times, & use smart phones to scan QR codes throughout the property for virtual presentations.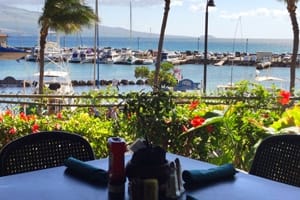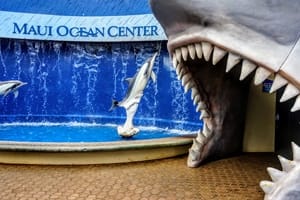 As of right now tickets must be purchased in advance with a reservation for safety of the visitors during times of COVID 19 & masks must be worn in all indoor spaces. Military & Kama'aina discounts are available when purchasing tickets. Maui Ocean Center is currently open from 9am to 5pm, with capacity slowing down in the afternoon.
Be prepared for a time of stunning views, charismatic & silly creatures & memories to last forever! The Maui Ocean Center is perfect for the entire family to enjoy, for adults to relax & feel like kids again & for children to get up close & personal with some of their favorite animals straight out of a Disney movie! How special it is to truly know what's beneath the waters that humans dive into on the island of Maui.
https://mauioceancenter.com/