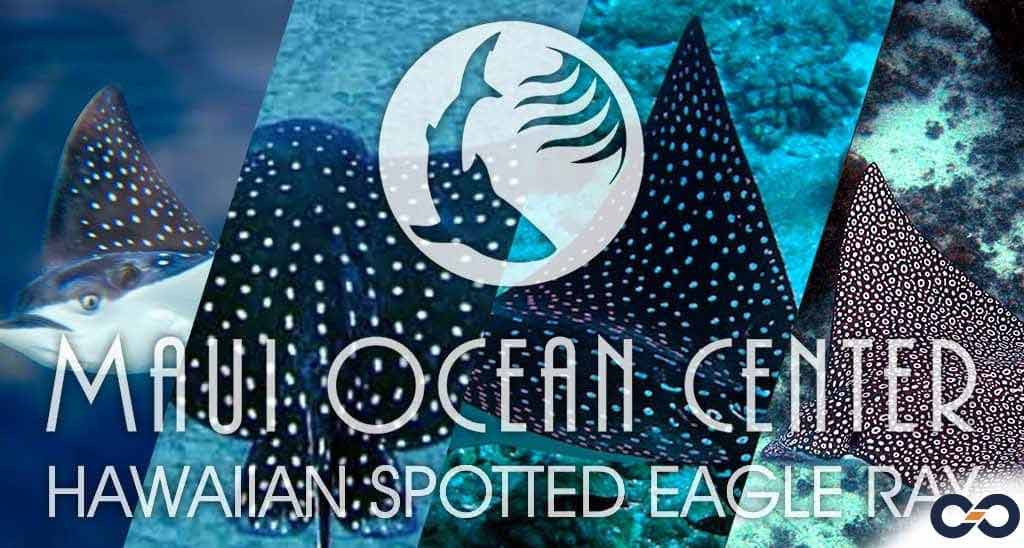 An Aerial Wonder Underwater
Ever experienced the magic of Hawaii? One moment that captures the essence of the tropical paradise is when you witness the Hawaiian spotted eagle ray beneath the waters, as gracefully as an airplane gliding in the skies. The local name for this mesmerizing creature is "hihi manu". That means "elegant bird". And trust me, elegant they are! Just imagine the sight – a magnificent creature soaring through the waters, leaving snorkelers spellbound!
The Intriguing Appearance
The Hawaiian spotted eagle ray, known for cruising through shallow coastal waters, carries an enchanting appearance. Picture this – a dark black body embellished with white spots, contrasted by a white belly with an intricate maze of black patterns. These patterns are not just beautiful but unique too, much like fingerprints!
Exceptional Features
They possess pectoral fins with a span of six feet. Sounds incredible, right? But wait, there's more. These rays come equipped with a whip-like tail that can be four times the length of the body and holds up to five barbed spines. These spines contain venom but don't worry, they aren't deadly. Still, it's best to maintain a safe distance and admire their beauty from afar.
Dining Preferences of the Rays
High tide is the favorite dining time for these underwater gems. They're expert foragers, using their shovel-shaped snouts to scoop up oysters and clams. You'll find them feasting on snails, shrimp, crabs, and other shellfish. With their specially equipped teeth, they crush shells and spit them out once the delicious meat inside is consumed.
A Unique Sensory System
Ever heard of an underwater metal detector? The Hawaiian spotted eagle ray boasts an electroreceptor system, called the Ampullae of Lorenzini, that does exactly that. This sophisticated system helps them detect the electric fields of buried prey. Their sensory powers don't stop there. These rays can sense the Earth's magnetic field, helping them navigate the vast oceans with ease.
Camouflage and Community
Moving alone or in schools, these rays have a unique pattern and coloration that allow them to blend with the ocean floor. It's quite a sight when a group of these fantastic sea creatures travel together in perfect synchronization!
Reproduction and Breeding
Their breeding behavior is as unique as they are. Males possess pointed teeth which they use to latch onto the female's wing during the brief mating process. Females give birth to live pups after a gestation period of about a year. The sight of the mother ray jumping out of the water to give birth is truly something to behold!
A Spectacular Sight
Whether you're snorkeling, diving, or simply on a boat ride, catching a glimpse of the Hawaiian spotted eagle ray is a joy. They're known for dramatic leaps from the water, almost mimicking a dolphin. But this isn't just a random play – it's often a signal that a new pup is about to be born!
Witness the Marvel up Close
Want to witness these beautiful creatures up close? Head over to the Maui Ocean Center for an incredible underwater experience. The kind folks at MAKAO Rental Car Maui can set you up with the perfect vehicle for your family trip. Whether you choose to snorkel with these majestic sea birds or explore the Maui Ocean Center, be sure to cherish every moment!
Start Your Drive: 'Take Me to This Site', Book Your Car Now!
Summary
The Hawaiian spotted eagle ray is truly a marvel of nature. Their unique appearance, intriguing features, sophisticated sensory systems, and unique breeding behavior all contribute to their captivating allure. They add a touch of magic to the tropical waters of Maui, offering snorkelers and divers a unique underwater spectacle. To witness them in their full glory, a visit to the Maui Ocean Center is highly recommended, and there's no better way to reach there than with a vehicle from MAKAO Rental Car Maui. So, ready for an unforgettable Hawaiian adventure?