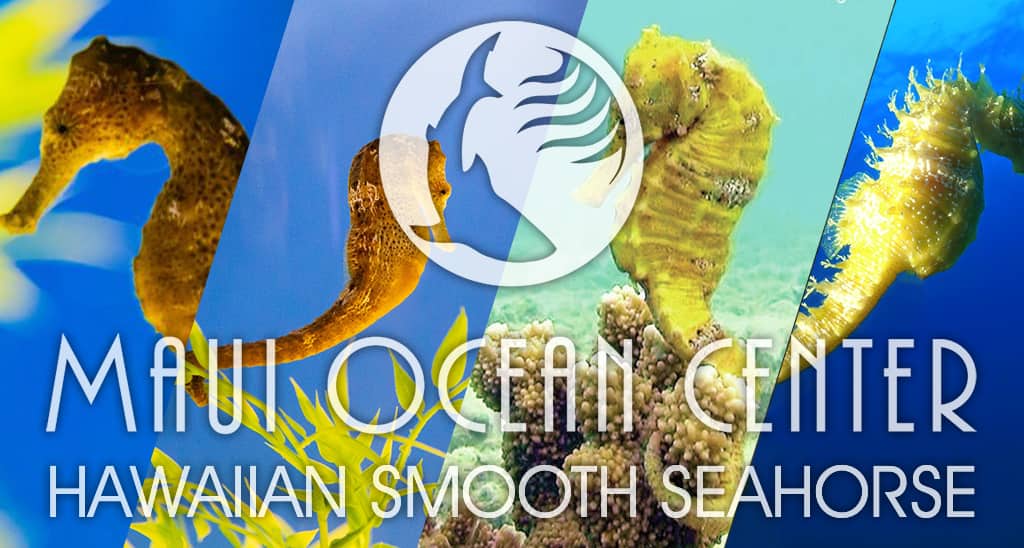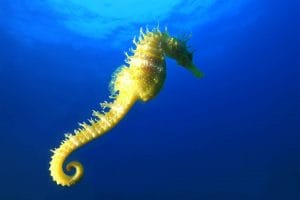 Traveling to Maui, so much to do and so much to see! A definite must for the to do list : snorkeling! So many beautiful and fun sea creatures to swim through the crystal clear waters with. But perhaps the most unique is the Hawaiian smooth seahorse! There are 54 species and sub species of seahorse world wide, though new species continue to be found, one third of which have been discovered with in the last decade! Belonging to the same family as pipefish and sea dragons, these creatures are most commonly found in shallow depths, a perfect place for snorkeling! The Hawaiian smooth seahorse is the most common species found amongst the Hawaiian islands, but lacks the spines that so many other species have, leading to an even more special find!
The Hawaiian smooth seahorse a light to dark brown, dependent on the surrounding area and grows to a length of up to 12 inches. The estimated lifespan of this species is about one to five years, and as a seahorse, it is amongst the weakest swimmers of the ocean. The only fish with a prehensive tail, these unique animals have a dorsal fin which beats 30 to 70 times per second, propelling the body along and pectoral fins that aid in stability and steering. Sea horses are able to swim forward, backward, up and down, but can become fatally exhausted in rough waters and storms. Using the prehensive tail, the Hawaiian smooth seahorse can grab onto objects, allowing for attachment to floating plants as a method of travel. With hard body plates covering the body instead of scales, the seahorse can blend into coral and seagrass as a method of protection. This species has gills for breathing, and a swim bladder which allows for buoyance. Because seahorses possess no stomach, constant feeding is a necessity for survival. One seahorse can eat up to 3,000 brine shrimp in a single day, all of which involves no chewing, as seahorses have no teeth! Equipped with a long snout that can expand and acts a vacuum, the animal will suck in anything that can be swallowed. With a predatory kill rate of about 90% and the ability to suck up food from up to three centimeters away, these animals mean business when it comes to meals!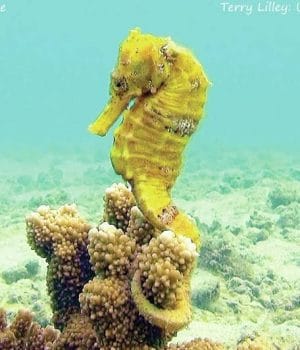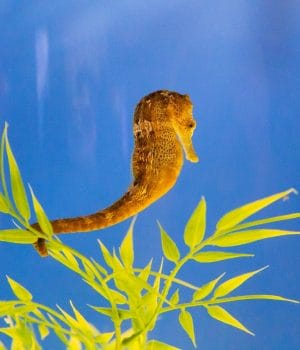 Seahorses are known to travel in pairs, linking tails as the male and female swim through the waters. As monogamists, the male will give a courtship dance to the chosen female, which can last for hours, before pairing is decided. The pair will communicate through sound. Touch and visual ques, and engage in daily rituals to strengthen the bond and reproductive cycles of the two. As females are more mobile than males, a female's territory range will average about 1 square meter, which the male's territory range will only average about half a square meter, with overlap in between. Breeding occurs year round, and because the male is the partner to become pregnant, the female is able to produce eggs at a much faster rate! The female will deposit eggs into the males brood pouch on the stomach of the body where the babies will receive both oxygen and food during an incubation period of about two weeks. The male can give birth to up to 300 babies at one time, a process which can take up to 12 hours. The babies are independent immediately upon birth, but only about .5 perfect will survive to see adulthood. As soon as birthing is complete, the pair can reproduce right away for another batch of babies!
The Hawaiian smooth seahorse lacks many natural predators in the sea, due to camouflage methods and being hard to digest. The shape of the head allows for silent movement and swimming, while chromatophores in the skin cells allow for blending colors. Though many species are declining in numbers and listed on the IUCN Red List, making it vital to protect the animals! The traditional Chinese medicine trade harvests about 150 million seahorses per year from the wild. The curio trade takes in about a million seahorses per yar, leaving the animals in the sun to die and dry out before being sold as souvenirs. And the pet trade brings in about a million seahorses per year to be used in aquariums for homes and businesses, less than 1,000 of which survive past six weeks. That's over 3.5 million seahorses taken from the wild each year by humans!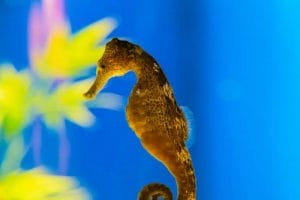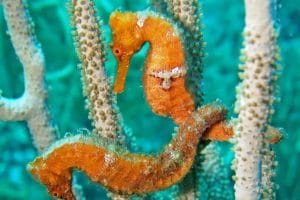 Snorkeling through the waters of Maui and peeking at a Hawaiian smooth seahorse is a magical encounter, and shows how truly special these animals are! Seeing a seahorse face to face shows just how important it is to protect the species from becoming a thing of the past. For an even closer look and more knowledge on the Hawaiian smooth seahorse, a visit to the Maui Ocean Center is another activity to add to the to do list! Go Rent A Car Maui has vans, trucks, suv's and sedans to travel to all the best snorkel spots and to the Maui Ocean Center for a truly wonderful seahorse experience!