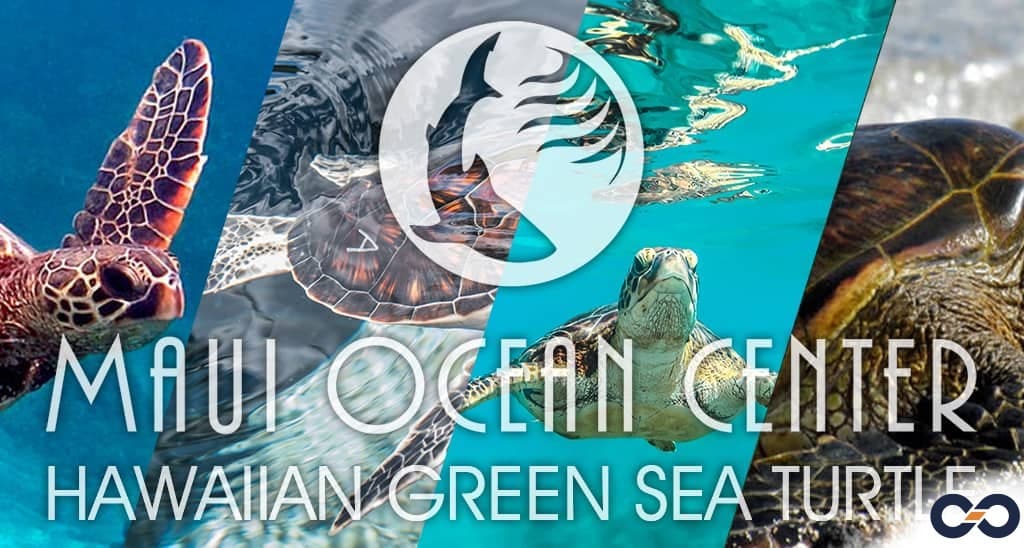 Hawaiian Green Sea Turtle
If there's a magical place where you can encounter a variety of fascinating creatures, it's Maui, Hawai'i! With an array of delightful plants, delicious fruits, and colorful critters, every moment here can be an adventure. And if you're up for it, snorkeling offers an opportunity to say hello to one of the most impressive inhabitants – the Hawaiian green sea turtle, locally known as "honu".
Meet the Gentle Giants of Maui's Waters
Among the seven types of sea turtles found in Hawai'i, the Hawaiian green sea turtle takes center stage, effortlessly gliding through clear blue waters. These critters are often spotted taking leisurely naps on the beach too – a truly enchanting sight whether you're under or above the water!
What Makes the Hawaiian Green Sea Turtle Unique?
The Hawaiian green sea turtle stands out in the crowd, and not just because it's the largest hard shell turtle globally. Weighing over 300 pounds and reaching lengths up to four feet, they sport a beautifully colored upper shell, or carapace, that shades from brown and yellow to black. Their under shell, or plastron, is a lighter yellowish hue.
Unlike their cousins, Hawaiian green sea turtles boast an unhooked beak, paddle-like flippers, and a short snout. And guess what?
They're the only ones who stick to a greens-only diet – yep, they're the vegetarians of the sea turtle world! While this plant-based diet, which primarily consists of algae and seagrass, turns their body fat green and leads to slower growth, it does contribute to a healthier ecosystem by promoting the growth of marine plants.
A Journey Through Time with the Hawaiian Green Sea Turtle
Can you imagine a creature that has seen the world evolve for over 150 million years? Well, that's the Hawaiian green sea turtle for you! Blessed with an average lifespan of 80 years, these creatures have seen it all.
Relying on wave directions, sunlight, and temperature for navigation, they're known for their leisurely swimming pace of one to two miles per hour. Still, they can up their game to 20 miles per hour if need be!
Though they're masters at underwater sightseeing, they do suffer from a touch of nearsightedness above water.
With lungs nearly two-thirds the length of their upper shell, they can stay submerged for hours, the longest recorded duration being an astonishing five hours!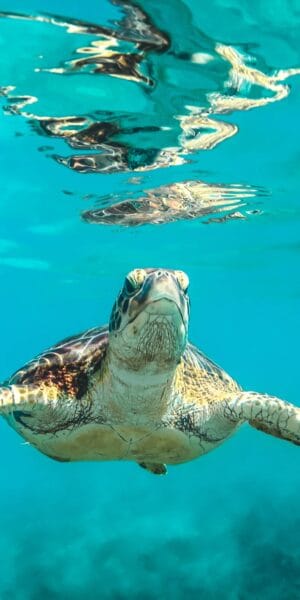 The Circle of Life: Reproduction and Survival
At around 20 years, male Hawaiian green sea turtles grow a long, thickened tail, indicating they've reached sexual maturity. Mating every two years, females undertake an epic 600-mile journey to their nesting grounds, often laying up to 100 eggs per nest.
Depending on the sand temperature, the hatchlings could be males (from cooler sands) or females. Sadly, survival is a significant challenge, with only one out of every 5,000 hatchlings estimated to reach adulthood.
Interaction with Humans: Past and Present
Over the course of Hawaiian history, the relationship between humans and the Hawaiian green sea turtles has been complex. While some ancient Hawaiians raised them in ponds for consumption and practical uses, others revered them as sacred deities. These days, the turtles enjoy protection under federal law, helping their population to thrive.
The Challenges Faced by Hawaiian Green Sea Turtles
Despite their robust survival strategies, Hawaiian green sea turtles face numerous threats, primarily from humans and sharks. Boating accidents, plastic pollution, and diseases are major concerns that need immediate attention.
Experiencing the Beauty of Hawaiian Green Sea Turtles
While visiting Maui, making time for a green sea turtle encounter should be a priority. There's something immensely fulfilling about watching them in their natural habitat, especially knowing that this species is listed as "threatened." Be sure to visit the sheltered Turtle Town in Makena or the Maui Ocean Center, where you can get an up-close view of these creatures.
And if you need a reliable ride to explore Maui's wonders, MAKAO Rental Car Maui offers an array of options, including vans, trucks, SUVs, and sedans. With their services, your turtle-seeking adventure in Maui is guaranteed to be comfortable and memorable.
Start Your Drive: 'Take Me to This Site', Book Your Car Now!
Summary
The Hawaiian green sea turtle, known as "honu" locally, is a unique and essential part of Maui's vibrant marine life. With their distinct vegetarian diet and a rich history of interaction with humans, they present a captivating sight for visitors.
Although they face numerous challenges, efforts are being made to protect and conserve them.
A visit to Maui isn't complete without experiencing these gentle giants in their natural habitat. And with services like MAKAO Rental Car Maui, you can effortlessly explore these wonders on your trip.