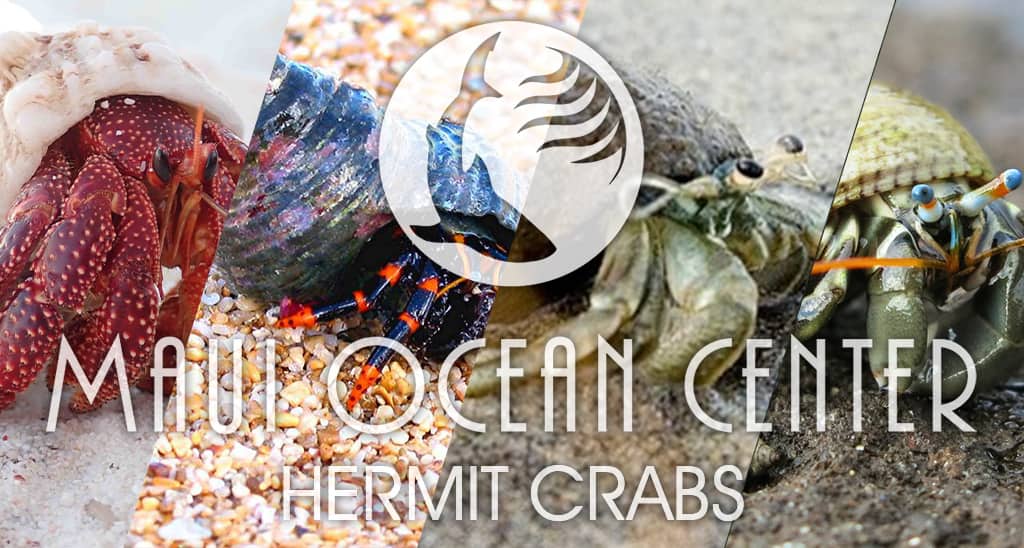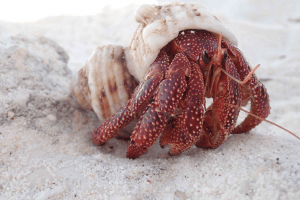 Of all the critters and creatures of the Hawaiian islands, perhaps one of the most interesting is the hermit crab! A very common animal to see while snorkeling through Maui or checking out the tide pools, there certainly is no shortage! There are over 800 species worldwide, roughly 23 of which occupy the islands.
Hermit crabs are crustaceans and are related to crabs, lobster and shrimp, but are more closely related to lobsters than true crabs. Weighing anywhere from 1.3 ounces all the way up to 11 pounds, the hermit crab has a soft abdomen and tail. With a total of five pairs of legs, the second and third pair are used for walking, while the first pair bears claws and the last two pairs grip the shell. Living up to 40 years, these creatures have a timid nature and feed mostly on algae, fish and invertebrates. Hermit crabs can live in groups of hundreds and use gills to breathe booth in and out of water. These animals make a cricket like sound and expel chemicals or tactical signals to communicate with one another. Though the hermit crab can fully withdraw into its shell, using the oversized claw as a seal, carrying anemones on the outside of the shell provides extra protection against predators. Hermit crabs can also be found with growth of algae and other organisms on the outside of the shell. Both male and female hermit crabs will completely exit the shell for breeding, with females carrying the eggs until its time for a burst into larvae form, with an average litter size of 200 babies. Though these critters may not seem the most speedy, hermit crabs can move up to four inches per second!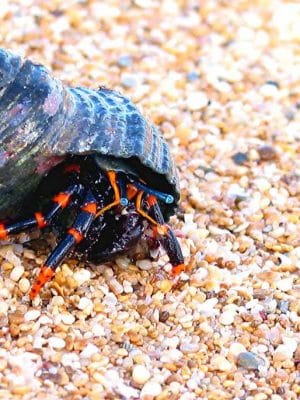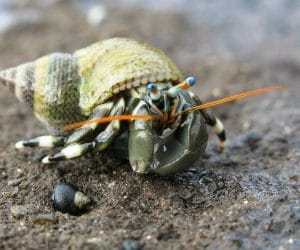 A hermit crab will occupy one shell until growth has caused a bigger shell to be needed. As a hermit crab grows, a molting process occurs as the old exoskeleton is shed and a new exoskeleton forms. Digging into the sand of the sea floor provides protection during molting so the hermit crab is not completely exposed to hungry predators! Though groups of hermit crabs will pass down shells and possibly fight over new shells, this animal never steals a shell that is already occupied! Hermit crabs have a curled tail to keep positioned inside the shell, and can change to a new shell in the blink of an eye. When its time to make the transfer, any growths or other sea creatures living on the outside of the shell will transfer over to the new home! Upon a shortage of snail shells, hermit crabs will use other hollow objects as homes. Because of this, pollution proves to be a huge threat to hermit crabs, as a piece of trash can be mistaken for a good home! When a hermit crab dies, a pheromone is sent out to signal others that a home is available, causing another animal to fall victim to the polluted "shell".
The island of Maui brings immense possibilities for under the sea adventures and snorkeling trips! A perfect way to see a hermit crab up close and personal! For a more subtle approach at viewing these fascinating creatures, try a visit to the Maui Ocean Center! Either way, hermit crabs are sure to bring a smile! Go Rent A Car Maui has vans, trucks, suv's and sedans ready for a trip to the best snorkeling spot or straight to the Maui Ocean Center to see the hermit crabs of Maui!