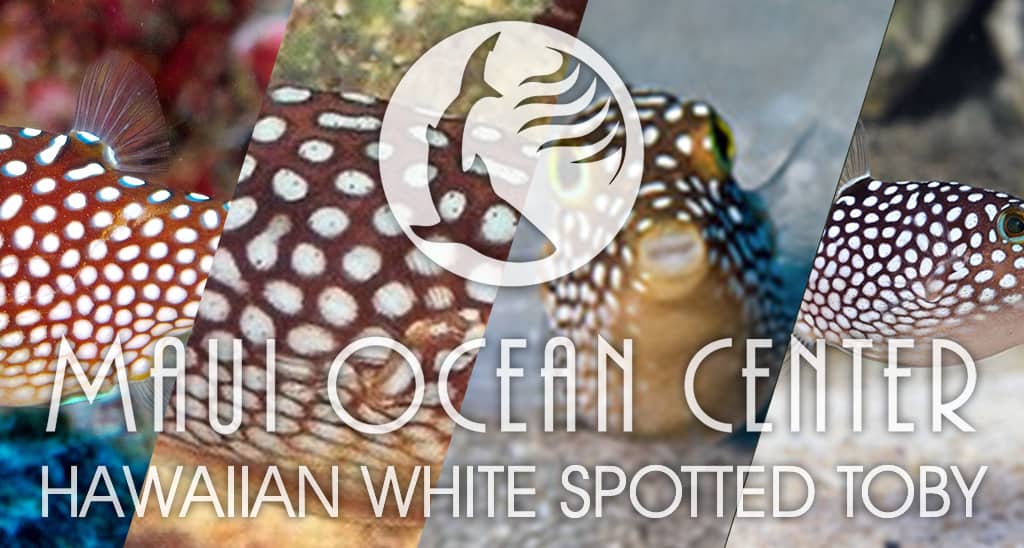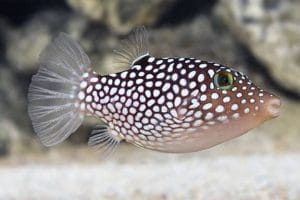 Perhaps one of the most common reef fish in the islands of Hawaii, the Hawaiian White Spotted Toby brings joy to all who bear witness to this endemic fish! Imagine a snorkeling trip in the cool, crisp waters of Maui, accompanied by these diminutive puffers, through the reefs and even open waters. No trip to Maui is complete with out time spent on the beach, observing the waters, so why not dive in and experience the underwater miracles of life that Maui has to offer!
Of the five species of Toby in Hawaii, the Hawaiian Spotted Toby is the most common amidst the coral reefs and even in the dead areas of the sea where nothing else seems to live, as these fish have no preference in water depth and can be found anywhere. This fish has a yellow or body with white or light blue spots covering it entirely, and has an elongated snout. Equipped with gorgeous green eyes, this member of the pufferfish family has a body with a greenish fluorescence caused by a mucus covering the body as protection against the sunlight. This mucus is toxic if consumed by animals or humans, making it an aid in defense against predators of the ocean, paired perfectly with the fish's ability to puff up its body to deter any hungry passers by. The Hawaiian White Spotted Toby reaches up to 3.5 inches in length, and may have irregular black marks that signify disease or appear inflated due to parasitic worms.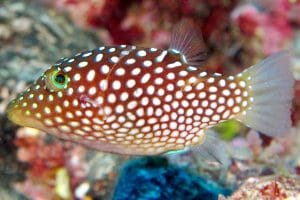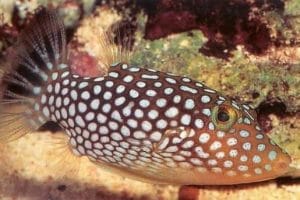 Usually found in pairs, the Hawaiian White Spotted Toby are very territorial of both space and partners. Males are larger than females, and a male's territory will include one to four females. The male will partner with each female at different times, while the females will never mate with another male. If a male is removed from the group, another male will immediately take over, sometimes over night. After the female has laid her eggs, the male will demonstrate external fertilization. The Hawaiian Spotted Toby will act in defense against others of the same species and possible predators alike, constantly nipping at other sea creatures and leaving a cookie cutter like bite shape. This feisty fish feeds mostly on small invertebrates, algae and detritus material found on the reef.
The Hawaiian White Spotted Toby is a unique site to see amongst the reefs of Maui, as well as the open oceans surrounding the islands. This little pufferfish brings a special touch to the marine life of Hawaii! Whether seeking a first hand experience in the stunning waters or a more from a distance approach at the Maui Ocean Center, a sighting of the Hawaiian White Spotted Toby is sure to bring smiles to all guests! Go Rent A Car Maui has vans, trucks, suv's and sedans to take the entire family out for a snorkeling trip with these puffer fish, or to the Maui Ocean Center for a peek at them!