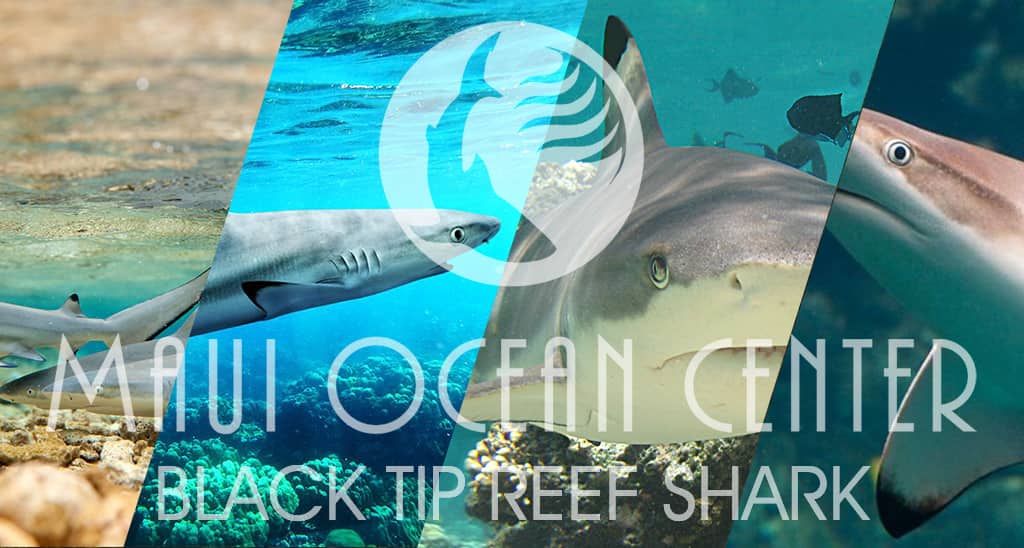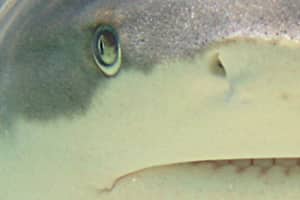 Maui is known for white sand beaches and crystal clear waters surrounding the island paradise, the ideal spot for sun seekers and adventure lovers alike! Perhaps one of the most popular and sought out ocean activities on Maui is snorkeling, whether in a group with an instructor or independently! Under the surface of these Hawaiian waters, visitors are swept into the sea life of the tropics, critters big and small and everything in between. Some creatures may greet with a smile of bubbles, while some may be worth avoiding. Of those more "stay away" animals, the black tip reef shark sure knows how to make the biggest impression! Of all the 40 species of sharks found in Hawaii, the black tip reef shark is the most highly populated and common to witness.
The black tip reef shark prefers a more shallow water near the shore, as they can be prey for larger shark species. This animal has among the smallest home range of all the species of sharks, and remain in the same area of water for several years, as opposed to other species of shark that may migrate throughout the year based on seasons. When threatened, these fascinating creatures will form their body in an "S" shape, and roll side to side. Thought they have been known to be aggressive toward fishermen, even stealing bait, there have only been 29 unprovoked attacks on humans worldwide, ever recorded. The black tip reef shark exhibits timid, shy and easily scared behavior allowing for snorkelers to have a peek without worry!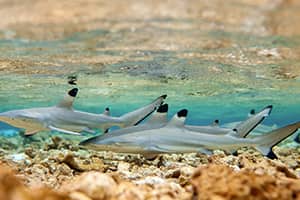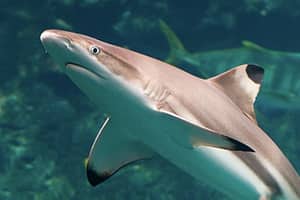 In Hawaii, these sharks average about 5 ½ feet long, but can grow up to 7 feet in length, with a maximum weight of about 30 pounds. These apex predators are distinctive by the black tips on all fins except the anal fin, often seen peeking above the water surface. With narrow cusps of teeth, the male sharks posses a more abruptly curved smile. The black tip reef shark has a tan of brown hued body, with a white underside, and a sheath of tooth like scales covering the entire body called denticles, which help to swim quickly and protect from parasites. These water hunters are more active during dawn and dusk, as the cooler waters of the dark skies slow down metabolism, causing a decrease in speed. The black tip reef shark feeds on crustaceans, squid, octopus and bony fish. Though these creatures have no cone cells in their retina, making it hard to discriminate color and fine detail, sharks posses a 6th sense, allowing them to sense electromagnetic fields in the water. The black tip reef shark can also smell one part fish in 10 billion parts water!
Female black tip reef sharks reach sexual maturity at about 3.2 feet in length, while males reach sexual maturity at about 3 feet in length. To encourage breeding, females will release a chemical signal for males to track and follow. The male shark will grasp the female shark's pectoral fin with his teeth, and mating occurs belly to belly. Pupping season in the Hawaiian islands takes place between July and September, when the female will give live birth to 2 to 5 pups after a gestational period of 14 months. The babies measure about 16 to 20 inches in length, and will be left in underwater nurseries in shallow waters to keep safe from predators looking for an easy meal! These miniature black tips will reach adulthood at around 4 years old for males and 7 years old for females, with a lifespan of about 13 years.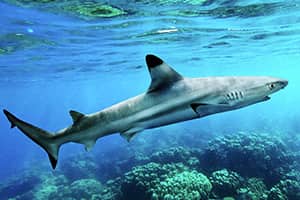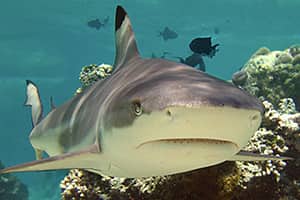 The black tip reef shark is currently listed as "vulnerable", which is only one step before endangered. It is important that these interesting and unique creatures be protected! Much like humans, black tip reef sharks are social and make close friends, living in groups with a strong hierarchy and working together as a team for hunting. Though the best way to witness a black tip reef shark is in the wild waters of the islands in a snorkel mask, a trip to the Maui Ocean Center will also give a close up look at these amazing sharks! Or even boating out in the sea, visitors may catch a peek at a black fin peeking up to the surface, or a full on breach, when the shark catapults from the water, making multiple full spins during a feeding frenzy! The black tip reef shark is one of many underwater friends that Maui holds near and dear! Go Rent A Car Maui has vans, trucks, suv's and sedans to take you straight to the best snorkel spots for a face to face, or to the Maui Ocean Center for a more secure "hello" with these stunning sharks!