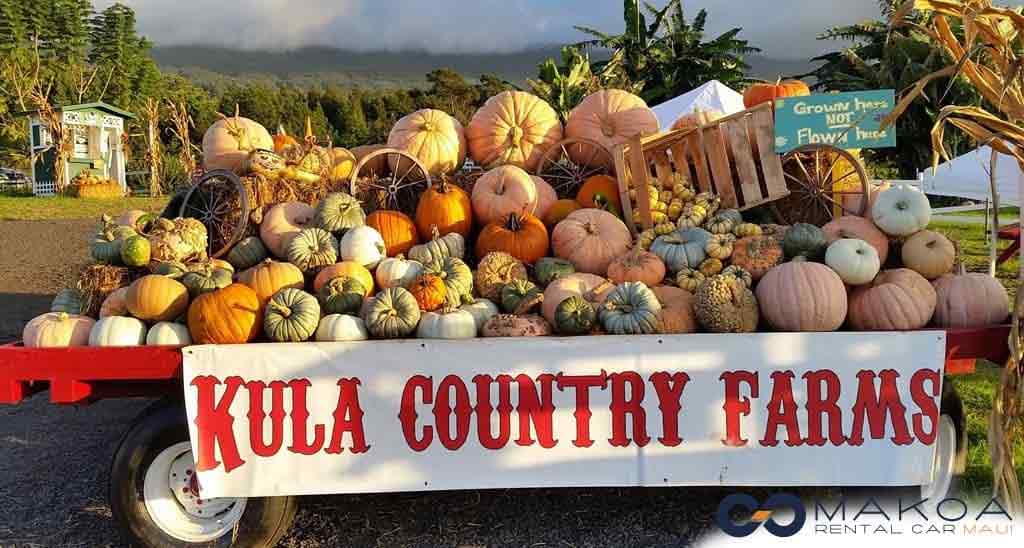 Immerse Yourself in Local Maui Life
Visiting Maui, eh? Prepare for a refreshing twist on the "shop local" idea. We're talking not just food or gifts, but some seriously good produce. Our friends at Kula County Farms, nestled in Kula town, serve a truly authentic island experience. They offer the tastiest local fruits, vegetables, honey, and even jams. You can also get your hands on their fresh-baked goodies!
The farm sprawls across 55 acres in upcountry Maui. It's not just a farm but a buzzing hub of activities and events. They host seasonal affairs and even weddings, featuring their private patio and gardens. And let's not forget the stunning views of the Central Valley, Maalaea Bay, Kahului Bay, the island of Molokini, and the windmills on the West Maui Mountains. Google users seem to agree with a solid 4.6-star rating.
Fresh Goods Galore
Kula County Farms ain't playing around when it comes to food safety. Certified? Check! You'll find their products across the island in popular stores like Costco, Safeway, and Whole Foods. This fourth-generation farm and market is all about freshly baked goods, delivered daily for that perfect freshness. Their range? Oh boy, think sauces, dressings, marinades, salts, honey, and loads more. Some even say Kula Farms is the backbone for local hotels, restaurants, and stores.
A Natural Paradise
With rich, volcanic soil and a high elevation, Kula is a grower's dream. Kula County Farms is all about keeping things organic with low toxicity pesticides. Also, they have this local-inspired café where you can munch on burgers, salads, and wraps. All made from local and fresh ingredients. Did I mention the picnic tables and a kid's play area? It's a whole afternoon of island-style fun!
Live the Farm Life
The farm is like a mini zoo. You'll meet chickens, goats, rabbits, and ponies who call it home. Oh, and they also have a 7-hole golf course. Trust me; you don't want to miss a stroll with the chickens.
Seasonal Joys
Kula County Farms is a year-round spectacle. Each season brings its unique produce and events. The farm is perhaps best known for its strawberries, available from February through May. And guess what? You can pick 'em yourself! Come fall, and there's a delightful pumpkin patch with farm animals, a corn maze, and a kid's garden.
Relax and Unwind at Kula Farms
There's no shortage of things to do on Maui. You might get lost in the flurry of activities and beaches. But the island lifestyle is also about relaxing, taking in the salty air, and basking in the warm sunshine. Kula County Farms is an ideal spot to connect with the island's nature. From tasty treats to beautiful flowers, there's something for everyone. You could watch the island bee hives buzzing or savor a fresh-baked treat!
Explore Kula County Farms with MAKAO Rental Car Maui
And when you're ready to explore Kula County Farms, remember, MAKAO Rental Car Maui has got your back. With a range of vans, trucks, SUVs, and sedans, you'll be zooming through the farm experiences in no time. Now, that's what we call a Maui adventure done right!
Start Your Drive: 'Take Me to This Site', Book Your Car Now!
Summary
Kula County Farms, situated in Kula, Maui, is more than a farm. It's an experience, offering a true taste of local life with its local fruits, vegetables, and fresh goods. The farm also hosts various seasonal events and offers stunning views of Maui's landscape.
MAKAO Rental Car Maui can help you explore the farm and make the most of your island adventure. So why wait? Get ready to embrace the local life and enjoy the fruits of Maui's land. Aloha!