An early morning road trip has taken you to the winding roads that lead to upcountry Maui. Beautiful native foliage lines the curved roads in the most vibrant shades of green. Cactus, wildflowers and the occasional mongoose catch your eye. Upcountry Maui, Kula to be exact, has a plethora of farms and gardens just waiting for you to explore them. Among the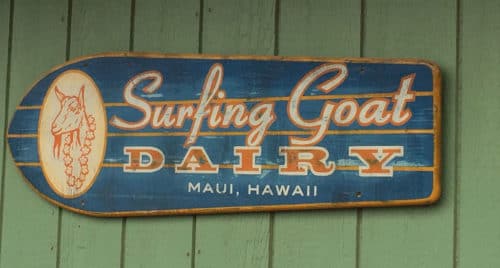 various working farms in Kula is Surfing Goat Dairy; an exceptional adventure for any age.
Upon entering the driveway of this beautiful property you are immediately greeted by the resident goats. All ages, colors and personalities of these friendly creatures eagerly await your arrival. It isn't long before you've befriended one or more of these adorable goats. The adventure begins……..
While Surfing Goat Dairy offers a variety of daily tours, they also offer informal self guided tours. You can spend as short as an hour there or an entire afternoon. This is definitely a place where "island time" is exhibited. From feeding and petting the goats, to watching them slide, jump, frolic and just be as cute as goats can be this farm will brighten any mood and  bring smiles to children and adults alike.
A true highlight of Surfing Goat Dairy is the variety of truffles and goat cheese available to guests of the farm. Sweet and savory and some unique flavors of truffles that will surely please any palette await you. The farm made goat cheese is available in many flavors. Creating a tasting of the goat cheese on one of the farms platters is a great way to explore the variety available. Paired with the provided crackers, the goat cheese lends a taste test experience that is second to none. The farm does offer a quaint dining area that is perfect for your tasting adventure. Be sure to grab more of the delicious products to take home.
Surfing Goat Dairy has been a part of our community since 1998. At Go Rent A Car Maui we believe in supporting and patronizing local business. Our island is a special place and we love to showcase some of our favorite adventures in hopes that you'll enjoy them as much as we do. Mahalo for shopping local.