For some it is the celebration of a most magical day that has come to a close…
For others it's the promise of a new day just over the horizon.
It is a nightly spectacular. It is a sliver of the day when time truly stands still. It is a gathering of friends who were at one time strangers who met on the beach 20 years ago; strangers that have become life long friends who continue to meet year after year for this nightly viewing. It is the locals who resist the urge to get but one more chore done taking pause to give thanks & appreciation to the aina. It is the visitors form across the globe perhaps witnessing this event for the first time or the one hundredth time, but every time…….still feels like the first time. It is the children playing at the oceans edge chasing the surf as it gently crashes on shore; not yet understanding just what is about to occur before their little eyes. It is the couple strolling hand in hand along the warm sand embracing the palette of colors.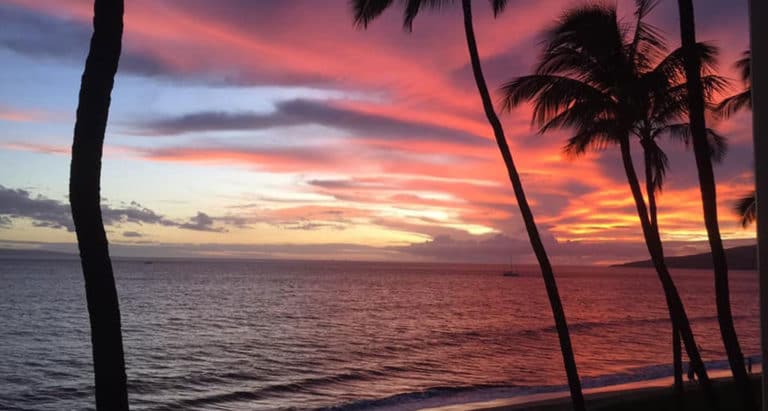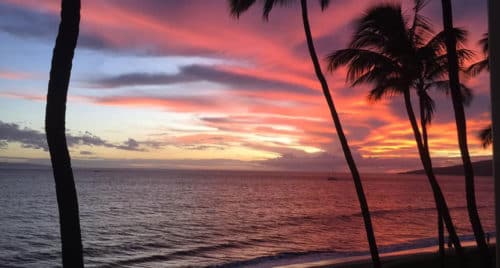 Pulled over on the side of the road in a patch of sand the perfect size for your vehicle to be safely off the highway. Nestled in a hammock swinging from a tree on a quiet beach; slight breeze keeping
you cool. Having a family dinner on the lanai at your resort . Resting on beach chairs in the grass at a beach side park. As you crest a slight hill as you're driving down to south Kihei road.
This marvelous occurrence will take your breath away. There are gasps & pauses. There is a stillness despite the fact that your viewing point is more crowded for this activity than it was during the peak of the day. There is silence. There is celebration. There is light applause at times. There is a feeling of euphoric youth. An unexplainable warmth. A light show that only nature and the islands of Hawai'i can gift to us.
This is the magical gift of the Hawaiian sunset; the Maui sunset. Their truly is no greater sight. It is a renewal. A reassurance that a new day will break. It is pure. It is beautiful.
At Go Rent A Car Maui we encourage our guests to embrace the magic of Maui. Share, teach, learn and experience the culture of our beautiful island. We believe in family and creating memories as well as building life long relationships. We appreciate our rental car guests and promise to extend genuine aloha to each of you.
Mahalo nui, Your Go Rent A Car Maui Ohana