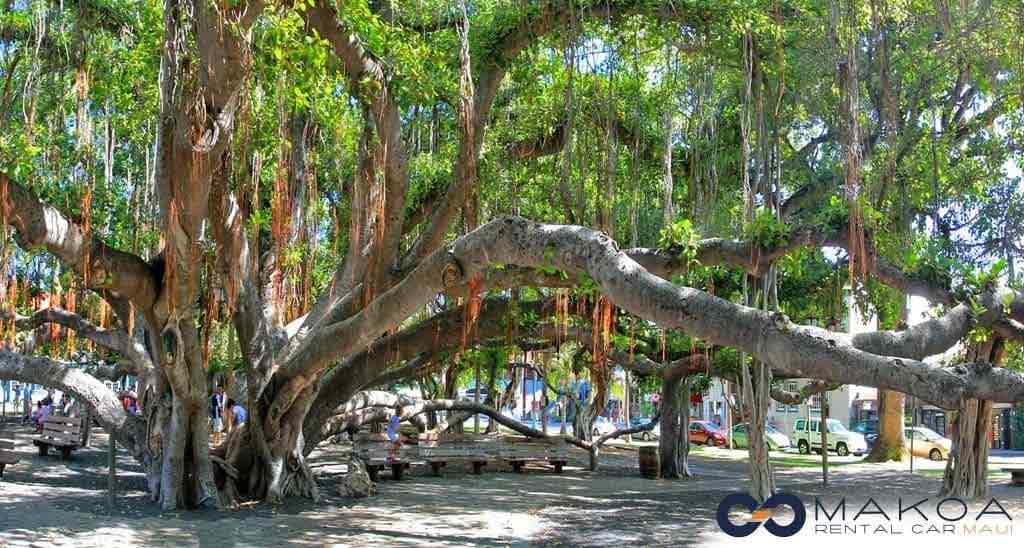 Explore the Majestic Lahaina Banyan Tree
Maui is renowned for its stunning beaches, lush landscapes, and breathtaking views. It's no wonder that travelers feel an extraordinary connection to the island's natural beauty. If you're seeking an unforgettable earthly experience, a visit to Lahaina Banyan Court Park should be at the top of your list. Located in historical Lahaina town near the harbor, this park is home to the largest banyan tree in the entire United States.
A Natural Wonder
Nestled between the Old Lahaina Courthouse and Lahaina Heritage Museum, the Lahaina Banyan Tree is a sight to behold. This magnificent tree spans over 1.94 acres of land, covering more than a city block. With a circumference of over a quarter mile and a height of over 60 feet, this nearly 150-year-old tree boasts 16 trunks that firmly anchor it to the ground. Walking along Front Street, you'll be amazed by the illusion of a group of trees rather than a single entity.
A Living Marvel
The Lahaina Banyan Tree continues to grow both vertically and horizontally. Its aerial roots descend from the branches to the ground, taking root and contributing to the expansion of its vast trunks. The tree's remarkable growth comes with a powerful force, as its roots have the capacity to damage septic systems, foundations, and sidewalks.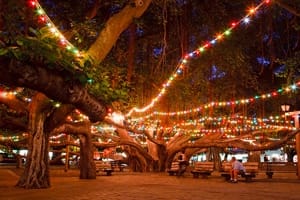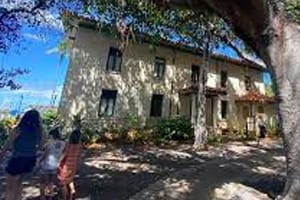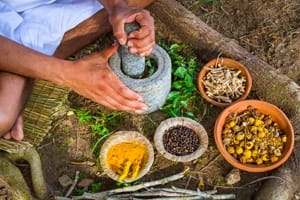 Discover the Park's Charm
Underneath the banyan tree's expansive canopy, you'll find scattered picnic tables and benches, providing the perfect spot to relax and enjoy the shade. The park's serene ambiance also offers countless photo opportunities. It's no wonder that this park has garnered nearly 3,000 positive Google reviews, and it can accommodate over 1,000 people beneath its branches.
Vibrant Events
The shade provided by the banyan tree creates an ideal setting for various Maui events. Every December, the park hosts the annual "Lighting of the Banyan Tree." Witness the magical sight of 6,500 lights illuminating the tree's limbs and branches. Additionally, you can attend Art In The Park, held twice a month, showcasing local artistry under the tree's majestic presence. The park also hosts annual Halloween celebrations, costume contests, weekend craft fairs, block parties, and dance festivals.
Historical Significance
As one of the world's largest banyan trees, this majestic living entity holds great historical significance on Maui. Planted on April 24th, 1873, this banyan tree was a gift to Sheriff William Owen Smith from missionaries in India.
It commemorated the 50th anniversary of the First Protestant Mission, initiated by Queen Keopuolani, wife and widow of King Kamehameha The Great. Lahaina, the capital of Hawaii from 1820 to 1845, witnessed the expansion of this historical town due to the banyan tree's presence. In fact, the street where the tree resides has been recognized as one of the 10 Greatest Streets in the United States by the American Planning Association.
Community Efforts and Preservation
Throughout the years, locals have played a crucial role in preserving and nurturing the banyan tree. Hanging large glass jars filled with water on its aerial roots has been a tradition aimed at promoting its growth. Today, the tree faces threats such as soil compaction, drought, and interruptions to its irrigation due to ongoing construction projects. However, its protection remains a priority for both locals and visitors.
The park is administered by the Maui Parks & Recreation Department, while the nonprofit organization Lahaina Restoration Foundation maintains its grounds. The foundation collaborates with the Lahaina Town Action Committee to manage and host town events. The Maui County Arborist Committee is responsible for the care and nourishment of the beloved banyan tree.
A Symbol of Culture and Healing
Banyan trees hold spiritual, cultural, and healing significance across various belief systems. Originating from India, these trees are considered the most venerated trees in Asia. They played a part in Buddha's enlightenment and are associated with concepts such as "fulfillment of wishes" in Hinduism. The banyan tree's cultural importance extends to the Philippines, where it is believed to host spirits and demons. Its massive trunk system, represented by the Sanskrit term "bahupada," symbolizes the tree's significance. Across different traditions, from Chinese New Year to Indian markets, the banyan tree represents hope, new possibilities, and merchant culture.
Nature's Bounty
The banyan tree's contributions go beyond its visual appeal. Various parts of the tree offer practical uses. In Nepal, the sap is utilized to make conditioners for skin and hair, while its roots are known for their effectiveness in treating bruises and inflammation. Chinese medicine recognizes the tree's properties in dental care, including gum disease prevention and toothpaste production. Moreover, the banyan tree's bark, sap, and roots have been used to promote joint health and treat skin ulcers, offering soothing benefits.
Experience the Magic
No visit to Maui is complete without spending time under the old banyan tree. Whether you seek shade on a sunny day or marvel at the Mynah birds returning to their nests amid the fig-like fruits, this tree represents a living relic of history and a deep connection to nature. Just like Robinson Crusoe, who found solace in a banyan tree, the Lahaina Banyan Tree holds a special place in the hearts of Lahaina residents and visitors alike.
Plan Your Visit and Support Preservation
To learn more about Lahaina Restoration Foundation and their efforts to preserve Lahaina's heritage, please visit their website. Plan your visit to Lahaina Banyan Court Park and embark on an extraordinary journey through history, culture, and the marvels of nature.
Start Your Drive: 'Take Me to This Site', Book Your Car Now!
Summary
The Lahaina Banyan Tree in Maui, Hawaii, is a remarkable natural wonder that captivates visitors with its grandeur. As the largest banyan tree in the United States, it spans over 1.94 acres of land, covering more than a city block. With its 16 trunks and expansive canopy, this nearly 150-year-old tree stands as a testament to the island's history and Lahaina's cultural heritage.
The park beneath its branches offers a serene setting for various events, while its roots intertwine with spirituality and healing traditions. A visit to the Lahaina Banyan Tree is a must for anyone seeking a deep connection with nature and a glimpse into the rich tapestry of Maui's past.